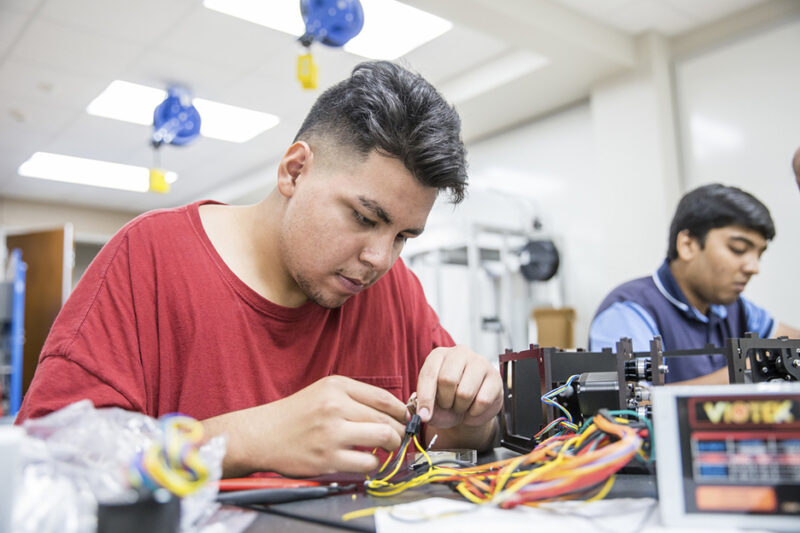 Technician/Pre-Engineering (TPE) Institute
Technician/Pre-Engineering (TPE) Institute
Institutes are specialized learning communities organized to offer students the support they need to get started on a career and meet their academic goals.
If you have any questions, please contact the Advanced Manufacturing Department Chair:
Dr. Laura Marmolejo
lmarmole@austincc.edu
Technician/Pre-Engineering (TPE) Institute
Thinking of engineering but not sure if you're ready?
The Technician/Pre-Engineering (TPE) Institute gives you an opportunity to demonstrate your ability to handle a full-time technical course load, acquire unique engineering technology skills, and prepare for the rigorous math requirements of a four-year engineering degree. The Technician/Pre-Engineering (TPE) Institute has been designed to prepare you for a career as an Electronic Technician and/or Engineer.
Upon completion of this one year program, you will have the option of continuing on to complete the Associates degree or applying for the Texas A&M Chevron Engineering Academy. In addition, if you meet the requirements, you will have the opportunity to apply for the Samsung or Applied Materials Apprenticeship program.
Overview
Potential employment as a Samsung Apprentice once you complete the sequence
A competitive advantage in applying for the Texas A&M – Chevron Engineering Academy at ACC
Completion of an Electronics Technician Specialization Level 1 Certificate
A focus on high-demand skills in Electronics, Automation, and Control Technology
A streamlined path to Calculus (the biggest hurdle to starting an engineering degree)
Applying
The TPE Institute is for full-time students who have achieved a high school diploma or equivalent. Students interested in the TPE Institute at Austin Community College must first secure admission to ACC.
Note: Admission to the College does not guarantee admission to an ACC institute.